Mocha Pics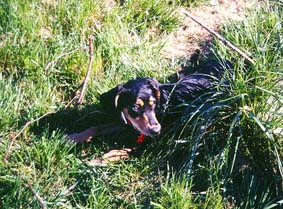 This is Mocha. The Dobie mix we used to own.
Yes, USED to. We had to bring her back to the Humane Society because we didn't have the time to exercise her, so she would chew. BUT, when we got her, she was a stray, from a litter of pups found wondering.
When we sent her back, she was Houstrained, Knew some commands, Was good, with Kids, cats, rabbits. Had her Shots, & was spayed. She was the perfect dog when we returned her, perfect for a person who had the time to exercise her... well, hopefully she is now in a nice home.